Small Changes. Big Difference.
Created Date: 17 Jul
1 Comment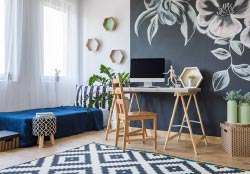 Earlier this year, we ran a makeover contest for our customers in Mumbai. People were asked to share pictures of any space they wanted to spruce up, and we'd send our favourite style diva Trumatter (aka Rukmini Ray Kadam) over to help. We wanted to prove that a few tiny changes is all it takes to make a world of a difference to any space.
Featured below is Rukmini's account of the challenge, which was originally published on her blog. Read on to know how Rukmini transformed Urvashi's living room with a few simple touches.
A Mumbai Home Makeover With Urban Ladder
We wanted to tell the world that to have a fabulous home, you don't need to have a lot of money. Some clever investments and a little bit of shuffling (things that you already have at hand) can dramatically turn your space around. But telling is one thing, and doing another. So we did it.
We changed Urvashi's Mumbai home with things she already had at home, and a little love from Urban Ladder.
Thoughts From The Before Home
Honestly, I lucked out because I had a clean slate and not clutter. In my stint with home makeovers, I have had a few very depressing homes to start with (including one of my own rentals too). Thankfully, Urvashi's home - though simple - was not cluttered and took away at least 4 steps from our home makeover journey.

I Love The Beach. And I'd Want A Beach House Feel.
The most challenging bit of a home makeover is probably bringing out the personality of the home owner in a way that brings a smile to their face. Your home is not just a jumble of good looking things, but a reflection of you. One step inside and you'll know who lives there - what they like, love and adore. So before bringing it all in, I took a look at her existing upholstery and asked herhow she'd like to feel when she stepped in.
Thankfully (yet again), Urvashi loves beach hues and she said, "I would love a coastal feel in this space... something that allows me to sit and look out of the window." You know, honestly, I might have clapped a little (in my mind) because those two things - my God! God knows that those two things are right up my alley! I can create nooks for nothingness just about anywhere, and beach hues are certainly my "thang". But it was not as easy as it sounds.
7 Things Needed To Be Done
1. Though her room enjoys plenty of natural light in the day, in the evening she relied on one single source of lighting, which is not very helpful in setting the mood. So I wanted to get in some mood lighting for her apartment.
2. Secondly, apart from the sofa, there were no other seating option or accent furniture in her room. And because the sofa was pushed to the wall, it made her room look large, but scarce. I would also use the word wanting. Given the conditions, I wanted to create a section and break the living room into two smaller areas - the seating section and the TV section. Plus, because from the door one walks straight into the living room, I also wanted her seating area to be the focal point of her living room. Basically, it was about breaking a large room into individual areas.
3. Thirdly, because her sofa is teal and her existing cushions were colourful - and because she wanted no greys - we had to rely on different shades of blue to get the coastal decor effect. We also interrupted it with warm colours like mustard and touches of magenta because they complement blue and wood tones, and at the same time add a bit of freshness without being too demanding.
4. I wanted to use her table, which was hiding below a certain wall, and turn it to the center of a fun hangout place.
5. She wanted to look out of the window and a comfortable accent chair - which will also complement the existing decor structure - was the need of the hour.
6. Her plants dotted the window sill, and they could totally highlight her decor. I also wanted to cheer up the dull corner at the head of her sofa.
7. The room overall needed cheer too.
The Final Touch
We broke the area with the Urban Ladder Sayan Dhurrie, which instantly freshened the space up with its ivory and yellow. Next, we moved her table to the centre of her sofa and added the Urban Ladder Reden Lounge Chair to complete the set-up. We placed the chair in a manner that would let her talk to guests, as well as look out of the window. Plus, the chair at the head of the sofa completed the demarcated area and gave it a closed area feel.
We grouped her cushion on the head of the sofa and added the Camellia Floor Lamp, so it helps in mood lighting. This also helped create a reading nook for he and her husband. Right above the lamp, we hung an air plant to cheer the corner even further. We also added a throw on the sofa and a mustard shawl on the Reden chair for comfort.
As for her center table, we decorated it with a reversed runner in jute (natural fabrics and coastal decor go hand in hand), a few books, a lamp in blue, a votive in sea green and a bonsai plant in turquoise - all of which she already had in different corners of the house. We loved how the cool colours and natural elements just set the table top off!
We also turned her super cool vintage watering can to a center piece. Seriously, turn to everyday objects that define you as a person for decor. She loves this watering can and we thought it's a lovely addition to her cosy table!
3 hours and a wonderful coffee later, Urvashi had a place she couldn't believe was hers. And it was amazing to see her place open up with its full potential. And I have to give it to you that Urvashi was a sport, and I loved working around her brief. But I might just be biased because she made some amazing coffee for me and gave me my first Diwali gift, which I am yet to show you all!
My debut interior decorating project was a success. Thank you Urban Ladder for giving me this fab opportunity! But come to think of it, many of my life's firsts have been with Urban Ladder. The first decor award for example, and I couldn't be thankful enough!
Hope you enjoyed this little home makeover. We are so ready for more!